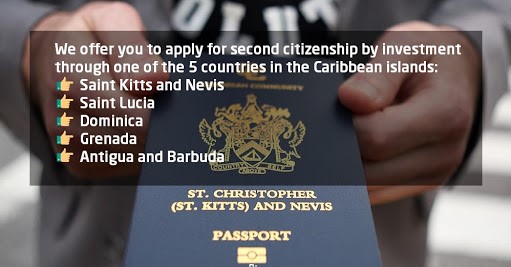 Citizenship-by investment programs attract a number of high net worth individuals in developing nations, looking to add a second passport  in their investment portfolio. A second passport provides a greater mobility along with visa free travel freedom. The CBI passport market has turned into a $5 billion industry annually.
St Kitts introduced the first citizenship by investment program in 1984, then Dominica joined in 1993 and it was only in 2014 many more countries joined the CIP club and the market for investment citizenship gained momentum giving rise to a $2 billion dollar industry. Recently St Lucia and Vanuatu joined the citizenship by investment market along with Malta and Cyprus in Europe.
According to IMF article   "Offering citizenship in return for investment has been a "win-win" for some small Caribbean states. The substantial inflows of funds from these programs have helped boost employment and growth. Inflows to the public sector alone in St. Kitts and Nevis had grown to nearly 25 percent of GDP as of 2013".
Another IMF article says Citizenship by investment is a growing phenomenon –  The rapid growth of private wealth, especially in emerging market economies, has led to a significant increase in affluent people interested in greater global mobility and fewer travel obstacles posed by visa restrictions, which became increasingly burdensome after the terrorist attacks of September 11, 2001. This prompted a recent proliferation of so-called citizenship-by-investment or economic citizenship programs, which allow high-net-worth people from developing or emerging economy countries to legitimately acquire passports that facilitate international travel in Europe and Schengen Area.
 Christian Kalin, Chairman of Henley and Partners says, "A second citizenship is like an insurance policy of the 21st century"
Benefits of Economic Citizenship
Mobility and visa free travel freedom (visa waiver)
Safety, privacy and protection from war, political problems
Dual citizen status
Better education for children.
Opportunity to invest in international real estate markets.
Tax planning on worldwide income
Ease of doing business
The most important reason why these 'citizen by investment' programs gained so much popularity recently, citizenships are approved  very fast within 2-3 months without any trip to the country and there are no residency requirements. Exceptions are Malta requires one year residency, Cyprus requires 6 months prior residency.
Investment Options
There are number of investment options available under citizenship-by-investment.
Contribution to Government fund
Approved Real estate investment
Approved Business/Enterprise investment
Approved Government bonds, Share capital or Investment funds
Bank deposit
In 2019, there are some 14 citizenship by investment available in the world.
The following list of countries that have official and legal citizen by investment programs. We will also compare the value of these passports using three different passport ranking indexes.
Dominica and St Lucia are the cheapest citizenship programs for single persons
Antigua is the cheapest citizenship program for families
Vanuatu has the fastest passport times 1.5 months of all schemes
St Kitts is the most powerful caribbean passport in terms of visa free travel.
Grenada, Turkey, Montenegro have E-2 treaty with United States, so becoming a citizen you have the chance to apply for E-2 non immigrant visa to United States.